Wow what memories folks! I had earlier posted this in another thread but I think it appropriate to make a new thread for it. The picture shown following is a scan of a newspaper ad for the opening of Raceland on May 1st. 1982. The ad itself makes no mention of "1982" but I ran the day of the month and the month of May on a web utility to calculate the year . . . so if the utility calculated it correctly I'll have to say that 1982 has to be correct.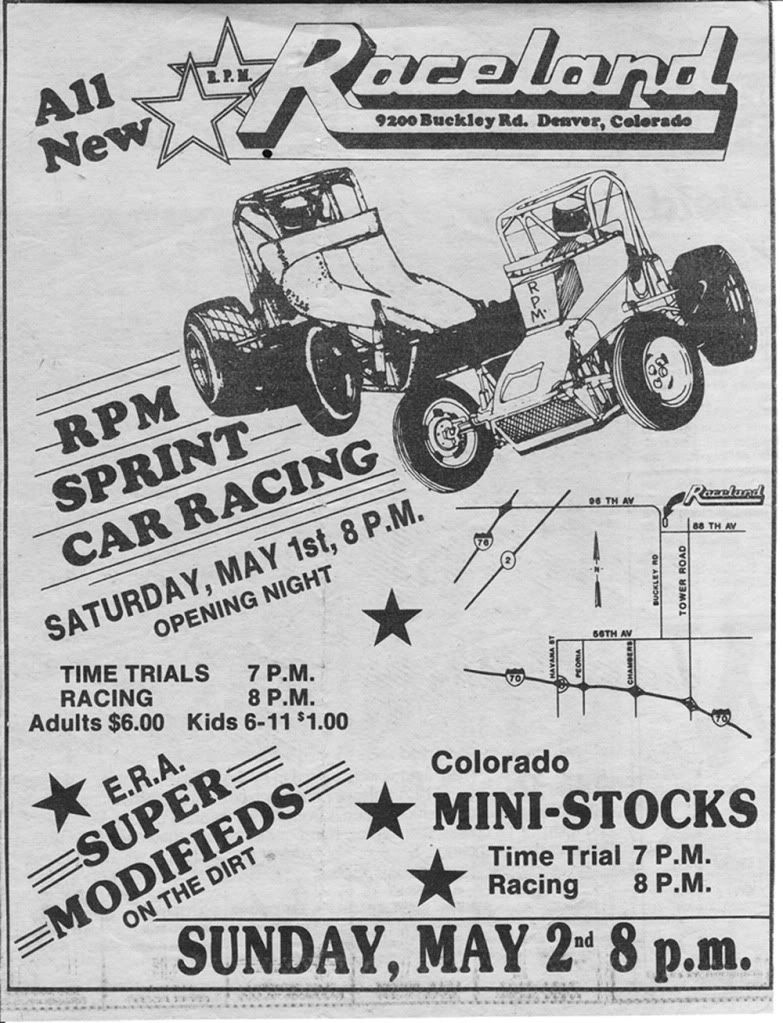 Someone mentioned in another thread that the shape of the original "Raceland" was like that of a "paperclip"- what an apt description. I'm afraid I'll have to take most of the blame for that. Here's the story: Up until that time I had been a land surveyor by trade and was pretty good at calculating volumes, trigonometry, geometry, etc. I was between jobs over the slow winter of 1981/82 - and Joe Krpan hired me to work as an all around designer / layout man / grading foreman / laborer, and everything else. I was hungry and glad to get the job; he paid me decent wages and on time.
I had to come up with a configuration that suited Joe's 1/2 mile requirement but also had to conform to a lot of other things he wanted. Straights about the same elevation and reasonably level between turns - back stretch not too far away (might have been a property line issue - don't remember) - balance the dirt within the running surface - there's no way Joe was going to pay machine time to cut and haul from off track - things like that.
When all was said and done I did my best calculating and staked that bad boy out. I think we had a paddle pan or two on site and a dozer - maybe a motor grader too. I used a hand level and did the stake chasing pretty much by myself. The machine operators were good at what they did so we got it built pretty fast.
In short, the front stretch was a cut operation; it went from cut going into 1 to a little bit of fill off of 2. The back stretch was all fill as was 3. It then blended to a cut into 4 then, as before said, cut all the way up the front stretch.
After that we staked out the pedestal locations for the grand-stands. When we got to that Rick Duckworth helped me out. I ran the instrument (transit) and he helped me by running the rod and staking out the pedestals. When we finished that I must have gotten a job surveying again because I don't remember doing any work on the rest of the facility. I suppose Rick stayed all the way through to completion.
By the way, I paid a pretty good price for those long FAST straights. About one lap after the lap during which the picture I use for my avatar was taken by Joe Starr, I pitched it into 3, the axle pushed the web out of the center of the right rear and . . . . well my wife said she lost count when I was about light pole high. All I remember was seeing dirt - at a really wrong direction - up, if you know what I mean. WW II